The vineyard is small (5 acres) and contains home wine makeing varieties and quantities such as Pinot Noir, Blaufrankisch, Reisling, Cabernet Sauvignon, Cabernet Franc, Merlot, Gamay Noir, Syrah, Nebbiolo, and Muscat.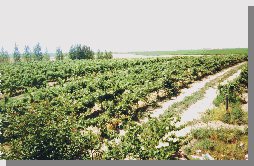 Parkhill Vineyards is open for U-Pick, or for vine or row lease. Home wine makers can contract entire rows by paying by the vine for a full year. This allows wine makers to make their own decisions on spraying, pruning, thinning, and picking. Or for our long distant customers, We-Pick. Please browse our variety list for more information. This site also provides detailed maps and directions to our vineyard. Advanced orders are required, as most of our crop is sold early in the year. However, it never hurts to call, as cancellations do occur.
My name is Thomas Parkhill. On behalf of my wife, Janice, and my sons, Andrew, Matthew, and Daniel, our family would like to welcome you to our vineyard.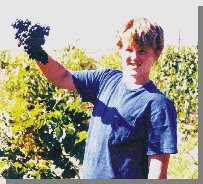 Making a source of good grapes available for home wine makers is our family passion. Many great American wineries have come from amateurs with small beginnings, and it is our pleasure to provide grapes to you, as a home wine maker or budding professional with dreams of success in the commercial winery industry.